A Guide to Duct Tape
Fabric Cloth Tape (or Duct Tape) is a cloth backed pressure sensitive tape coated with polyethylene. It is a tape that is known by many different names. Such as Duck tape, duct tape, ducting tape, gaffer tape, gaffa tape, waterproof repair tape, or elephant tape.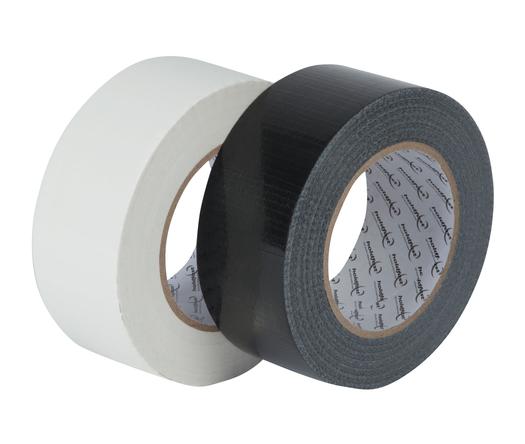 Duck Tape or Duct Tape? – A Brief History of Duck Tape
Fabric cloth tape was first used in the early twentieth century to make shoes stronger and to protect steel cables from corrosion. In 1902, cables supporting the Brooklyn Bridge were covered in linseed oil before being wrapped in tape and then laid safely in place. During the Second World War, Johnson & Johnson devised a form of cloth tape to seal ammunition boxes against moisture. The soldiers nicknamed this olive green tape – 'Duck Tape'. The reason for this naming has been lost over time. There are however three theories that this new tape was either an upgrade of the original duck cloth tape or that the waterproof tape had characteristics of duck feathers or that its name came from the amphibious army vehicle – the DUKW (pronounced duck).
Out of this world…
The fabric cloth tape helped to save the lives of the three astronauts on board Apollo 13. When the carbon dioxide filters failed, the ground crew advised the astronauts to use cloth tape to repair the carbon dioxide scrubbers. Ed Smylie, one of the ground crew who had designed the scrubbers, said he knew that the problem could be solved when he realised there was cloth tape on the spaceship. He said in 2005, "One thing a Southern boy will never say is, 'I don't think duct tape will fix it'". According to NASA engineer, Jerry Woodfill, a roll of cloth tape has been on every manned flight since the Project Gemini days in the 1960s.
What about Gaffer Tape?
Gaffer or gaffa tape is a form of cloth fabric tape that is used extensively within the television, film and music industries. Its most common usage is to affix cables securely to an auditorium, stage, studio or theatre floor. This is done for safety purposes and to prevent the audience from seeing them. It is most popular in a matt black finish, to stop light from reflecting on it during performances. Although cloth tape is sometimes sold as gaffa tape, true gaffa tape is a particular variety which can be ripped by hand, negating the need for scissors or a knife blade.
Its strength and waterproof properties have made it popular in a wide range of industries. It can be used in the construction industry, in the automotive trade for masking and protection, in the electronic manufacture and supply industry and also for carpet and upholstery fitting.
Heavy Duty Duct Tape at Packability
Our Heavy Duty Duct Tape is available in three sizes: 50mm, 75mm and 90mm, and in three colours, black, white and silver. Its conventionally sized core means it can be used with standard pistol grip dispensers for mobile applications and also with bench dispensers for office and warehouse applications.
Buy Industrial Tape at Packability >>