Double Wall Cardboard – Large Shipping Boxes
When you have a large object that needs delivering or storing in a warehouse, a popular item of choice is a cardboard box. Firstly you will have to choose whether you want a single or double wall box. If you have any concerns regarding your items safety during transit, then we would recommend double wall cardboard boxes for moving or deliveries.
Equally if you are using boxes for storage purposes, then double wall material is the best option as boxes are likely to be stacked on top of each other. Companies who sell their boxes online will offer an array of sizes off the shelf. These are usually generic sizes that have been manufactured with a non-specific product in mind. The only problem with buying an off the shelf box is that you can end up with a box that is far too big for the item enclosed. You will then need to purchase void fill to prevent your item from moving and being damaged in transit and storage.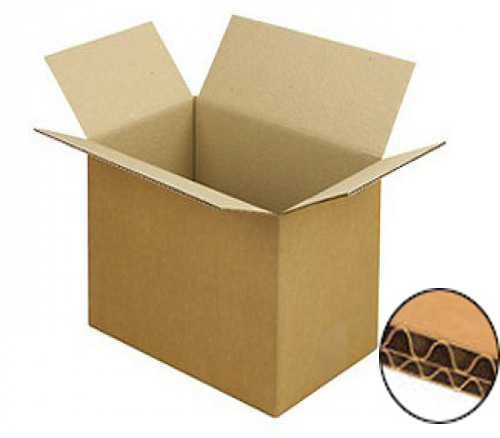 Bespoke Large Double Wall Packing Box Sizes from a Manufacturer
To prevent this added cost, it is advisable to purchase a bespoke box from a cardboard box manufacturer. Most people assume that if you are having large moving boxes specially made, then you have to purchase thousands of boxes at a time. This is incorrect. To produce a new box the cardboard box manufacturer would need to purchase 200sq metres of flat cardboard to complete the job. The larger the size of the box required, the less quantity of boxes would need to be manufactured. For example for a 400x400x400mm size cardboard box, the minimum order would be 150, whereas if a size of 500x500x500mm was required, the amount of boxes produced would be just 100. Additionally, the boxes can be printed in up to 2 colours. To require any printing you would need to purchase a printing stereo, which costs approximately £120 depending on the complexity of print required. The time from the purchase to the delivery of an order is approx 7 working days.
Large Moving Boxes – Styles:
There are many different styles of double wall boxes to consider. The standard box which has flaps that meet in the middle on the top and bottom of the box, which are closed with an adhesive tape, is known in the trade as a 0201 style box. The reference is taken from a recognised industry standard produced by FEFCO. For further information on the FEFCO styles please take a look at their website.
All cardboard boxes are sold in three dimensions, length, breadth and height. This simply means – the longest side panel (length) x the shortest side panel (breadth) x the height of the box (height). All box dimensions are measured internally, rather than externally.
Large Shipping Boxes – Grade
Finally, you will need to make a decision on the grade of board that you require. A common grade would be 125K/DW/125T. This would mean that the corrugated box is made from 125gsm Kraft outer liner, a double wall fluting (typically a B-flute and C-flute) and a 125gsm Test inner lining. Kraft containerboard was originally manufactured with 100% virgin pulp but board mills began adding recycled waste as a percentage of its content. Both the flutings and Test liner are made from 100% recycled material. Therefore on average, a brand new cardboard box would be made from 75% recycled material.
Whether you are considering buying an off the shelf double wall box or a bespoke size, I hope this information has been of interest and has helped alleviate any queries you have. Regardless of whether you are sending a car part or a family item to your new home, a large double wall box would give you far greater confidence than a single wall box during transit.
Buy Large Cardboard Boxes / Stock Cartons (Double Wall – over 500mm High) at Packability >>
Buy Packaging Boxes at Packability >>
Packability Double Wall Cardboard Box Range