Guide to Pallet Wrap
Pallet wrap (which is also known as stretch film and stretch wrap) is a polythene stretchable film which is used to wrap around items. Although used predominantly to wrap items that are on a pallet, it can also be used for wrapping and collating smaller items. Pallet wrap is manufactured from linear low-density polyethylene (LLPDE). Hexene and/or Octeneare are also added during the manufacturing process which gives the film its highly stretchable properties.
Traditionally, pallet wrap is used to hand wrap an item, but there is also pallet wrap available for use with pallet wrapping machines. Pallet wrap can also be manufactured in blown or cast varieties. Blown is manufactured to the highest specification which means it is a more costly item; the manufacturing process is also time consuming. The cast is manufactured to a quicker manufacturing time, but the quality is not as good as blown.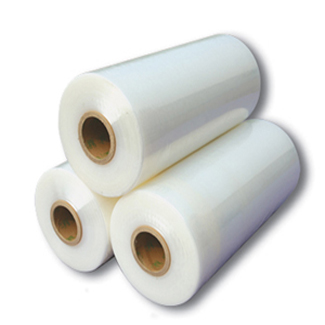 Stretch Pallet Wrapping Film to Improve Pallet Handling & Protection
Pallet wrap has several uses which are beneficial to the purchaser. Firstly, it greatly improves the stability of a load on a pallet; this applies when the boxes are a uniform size and also when mixed sizes and weights are used. This in itself leads to improved handling and storage of pallets, both in vehicles and in warehouses. The polyethylene material will also help to reduce the amount of dust and moisture affecting the products that are being wrapped. Finally, the tightly wrapped pallet will also prevent pilfering from occurring, as you would have to rip the polythene to be able to remove any of the items on the pallet. Ripped pallet wrap would suggest that a pallet has been potentially tampered with and security checks could begin to ascertain whether theft has occurred.
Different Types of Plastic Wrap
The most commonly used plastic wrap is hand pallet wrap. This product is selected when the user wishes to wrap the pallet by hand. The strength of the pallet wrap is measured in microns, ranging from 8 micron up to 34 micron. By far the most popular micron strengths purchased are 17 micron and 20 micron. Both are excellent for most specifications, but if your loads are heavy, it is recommended that you use at least 20 micron film. When applying hand pallet wrap it is greatly beneficial to use a pallet wrap dispenser. There are several types of pallet wrap dispensers available ranging from budget plastic up to high quality metal.
There is also a variation of hand pallet wrap which is supplied with an extended core. This enables the user to grip the ends of the core by hand and therefore it does not require a pallet wrap dispenser.
Stretch Pallet Wrap for Smaller Items
If you are wrapping smaller items then you may prefer the mini stretch film. Whereas hand pallet wrap is supplied in either 400mm or 500mm heights, the mini rolls are just 100mm in height. These smaller rolls are excellent for wrapping, as well as being suitable as an alternative product from strapping, tape, twine and wire. If you have a pallet wrap machine, you would need to purchase machine pallet wrap, which is usually produced in 500mm high rolls and in varying lengths. The length is far greater than hand pallet wrap which is usually 300m per roll. Dependent on the micron strength of the film, machine pallet wrap is supplied in either 1550m, 1700m or 2800m rolls.
Pallet Wrap Suppliers – Packability
Packability supplies a 'high performance' 14 micron pallet wrap which works to the equivalent of 17micron. Packability also sells pallet wrap in 17micron, 20 micron and 34 micron, which are supplied in blown film. Various pallet wrap dispensers are available for both 400mm and 500mm pallet wrap. We also supply extended core pallet wrap in 17micron and 20 micron, but in cast film only.
Blue Pallet Wrap for the Food Industry
If you require pallet wrap for use in the food industry, it is highly recommended that you purchase blue hand pallet wrap. The blue film is used to help identify any accidentally found pallet wrap in food preparation in the same way that blue sticking plasters are used. It is available in both 14micron high-performance and 17micron films.
Black Pallet Wrap for Security
If you do not wish for your products to be seen once they have been pallet wrapped, we recommend that you purchase black security pallet wrap. The black colour not only stops the items being seen but it also provides UV light protection. Black pallet wrap is available in both 17 micron and 25 micron films. If you are sending heavy electrical items, it is recommended you use the 25micron pallet wrap.