Using Kraft Paper Rolls
Brown paper rolls are available in a range of sizes for wrapping and interleaving. The rolls themselves are either pure or imitation rolls. The difference is that pure Kraft wrapping paper is manufactured from pure sulphate pulp and imitation economy Kraft paper is manufactured from recycled paper fibres. Pure Kraft paper is therefore slightly more durable and imitation has a lower burst strength. However both are excellent for all wrapping purposes.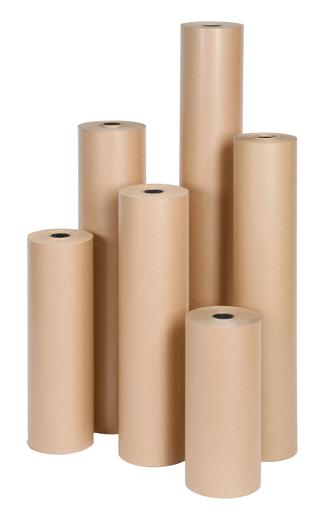 How / When to use 'Brown Kraft Paper'
Brown paper roll is used in many industries and markets for wrapping and interleaving. However it is also used as a wrapping material for parts in the automotive and engineering industry, for parcel posting and it also doubles up as a cost effective void filling agent. Kraft paper is also a handy product for the classroom as it's ideal for arts and crafts, drawing, painting, and colouring.
Imitation economy Kraft paper is available in heights of 600mm, 750mm, 900mm and 1150mm whereas pure Kraft paper is available in heights of 500mm, 600mm, 750mm, 900mm and 1200mm. The roll length of imitation is 200m and pure is 220m, 275m or 285m depending on the height of roll. Our imitation is a 90gsm paper and our pure is 70gsm or 88gsm. Brown paper rolls are sometimes referred to as 'counter rolls' as they can be fixed to walls, desks or counters with a paper roll dispenser.
Other Brown Paper Rolls
There are more industrial based brown papers available on the market such as Kraft union waterproof paper, waxed Kraft paper and V.C.I. paper. Kraft union is a water resistant barrier paper and it is manufactured from two layers of Kraft paper with a bitumen middle liner. It is recommended for case and pallet lining and also for export purposes. If you are protecting an oily, greasy product, waxed Kraft paper is suitable. Waxed Kraft contains a waxing agent that provides an excellent oil resistant barrier. If your product is manufactured from a ferrous metal, it is recommended you wrap it in a paper coated with a Volatile Corrosion Inhibitor (V.C.I.). This is useful for when you want to prevent products from rusting in shipping, storage and transportation. V.C.I. paper is safe for industrial packaging and is suitable for indirect food contact applications.
Specialist Wrapping Paper at Packability
If you want any other specialist wrapping paper, we have an extensive list of potential suppliers that we can contact to help you find the item that you require. Please contact us on 0845 643 9975, and we'll be happy to help.